News
"The Preacher's Path To God: A Collection Of Short Essays On Dominican Spirituality"
26 january 2017
This book, the author says, is like a new travel in St. Dominic's captivating mind:
"Many books have already been published on the spirit of St. Dominic and so this book, The Preacher's Path to God, may seem superfluous. But then St. Dominic is such a marvellous saint and the path to God that he chalked out for his preacher-brothers is so captivating that no matter how many have attempted to write about him and his spiritual heritage in the past there will always be something more that still remains to be said. This is because the spirit of St. Dominic is like a deep mine: the more one searches the more one finds, and the more one finds the more one is led to search and explore further.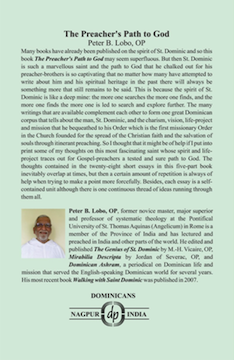 Peter Lobo, OP, former novice master, is now major superior and professor of systematic theology at the Pontifical University of St. Thomas Aquinas (Angelicum) in Rome.
---
Cost per copy :
USA $ 24.00 (packing and postage : add $ 2.50)

UK £ 19.00 (packing and postage : add £ 1.50)
Europe € 22.00 (packing and postage : add € 2.00)

Rest of the World US $ 24.00 (packing and postage: add US$ 2.00)

For copies of the book, please write to - domwalking@yahoo.com
---
---