News
The Director of the Spanish section of Domuni was appointed Provincial of Spain
26 november 2015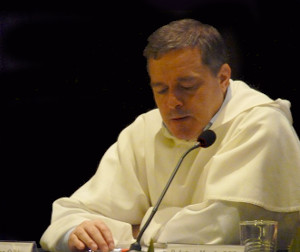 The Master of the Order of Preachers Bruno Cadoré has appointed Br. Jesús Díaz Sariego new Provincial of the Province of Spain, resulting from the union of the former Provinces of Aragon, Bética and Spain.
Díaz Sariego was born Sept. 4, 1962 in Riosa (Asturias, Spain). Solemnly professed in the Order of Preachers since September 11, 1983, he was ordained a priest on September 30, 1989. He obtained a doctorate in theology at the University of Fribourg (Switzerland), with a thesis entitled "Revelation and language. A hermeneutic reading of the Word of God through the philosophy of Paul Ricoeur".
Currently he is the Director of the Spanish section of Domuni University, Professor at the Pontifical University of Salamanca and Professor in the School San Vicente Ferrer in Valencia.
In the Province of Spain, he served as Director of the pre-novitiate, Students Master and Regent of Studies. In 2009, he became the Socius of the Prior Provincial of the Province of Spain, a position he held until now.
His personal page on Domuni (Spanish)
---
---