News
The Dominican Institute in Ibadan and Domuni Forge an Alliance
23 june 2016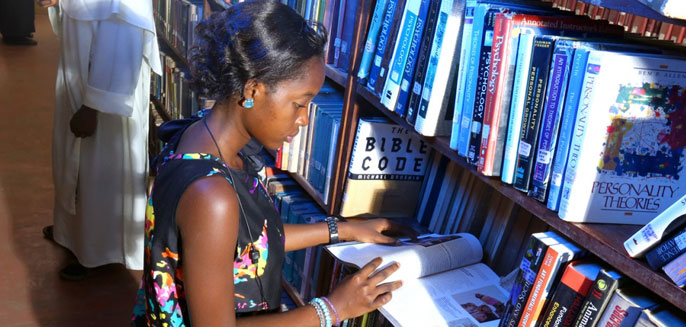 The alliance will include common courses, video and podcast lectures, shared digital publishing of material, and an invitation for professors at Ibadan to also become part of the faculty of Domuni.
The Dominican Institute in Ibadan was established by the Dominican Province of St. Joseph the Worker in 1989. Its mission is to use the Dominican philosophy of education of Thomas Aquinas to promote a conversation with the world of science, arts and culture, and religions, and to respond to Nigeria and Africa's need for integration and development. It currently offers bachelor degrees in philosophy and theology, a Master of Arts in Theology and diploma programs in Catholic Spirituality and Religious Formation.
Domuni University was founded by the French Dominicans in 1998 to leverage emerging internet technologies in order to offer inexpensive theological education to the poor around the world. By using online theological texts in flexible study programs, Domuni is able to offer theological and philosophical education to many people who could not benefit from an education that was overly structured, regulated or expensive.
The new strategic alliance makes use of the overlap in these missions. Courses developed in Ibadan will be adapted to Domuni's internet platform to be made available around the world. Professors in Ibadan will be invited to become part of Domuni's worldwide faculty, and individual lectures given in courses at the Dominican Institute can be recorded to become video or podcast resources for Domuni's online library. Also, students in Ibadan taking Domuni courses online will benefit by having local instructors to make sure they do not encounter obstacles.
In the other direction, the curriculum of the Dominican Institute in Ibadan will gain a depth of specialized courses as their students are enabled to take courses online from Domuni's international faculty. Existing courses in Ibadan could be enhanced by making use of Domuni's online library. Domuni's international journal TELOS will be made available to the teaching faculty in Ibadan and Domuni Press will publicize publications of the Dominican Institute in Ibadan.
Both sides look forward to seeing what might develop out of this strategic alliance and what other new possibilities it might open up in the future.
---
---