International Co-operation
Domuni University has international agreements with many study centres.
Europe
Spain
Facultad de Teologia de Salamanca
La Escuela de Teologia Salamanca has been teaching Theology online for over ten years. An agreement has been signed with them resulting in what is today the Spanish section of Domuni University.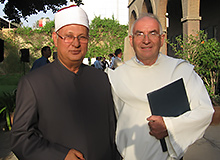 Italy
- Pontifical University Saint Thomas P.U.S.T. ANGELICUM, Rome
Domuni University was affiliated with PUST Angelicum, in order to offer students a co-accreditation of canonical degrees (issued by the Vatican). Domuni University had close links with the English section of the Angelicum and some of their academic staff continue to make their courses available online for Domuni University.
- Espaces Pistoia (Italian).
At the heart of the European Dominican network, Pistoia is involved in reflexions on the construction of Europe, and in particular, on its Mediterranean dimensions. With its proximity to Florence, Pistoia is particularly well located for its reflections on art. It is possible to study a module in Italian. (Fr. M.D Chenu op Il senso della storia).
Africa
CEDOREP Kigali
South America
Colombia
USTA Universidad Santo Tomas Bogota
An agreement of collaboration has been signed with this university. The USTA is present in 5 cities and growing rapidly. This will give occasion for the exchange of teaching materials, academic staff, and students as well as the joint organisation of symposia and research.
Puerto Rico
ITIPRI (Spanish)
This centre of Theology in Puerto Pico has collaborated with Domuni University for several years. They share some of their Master's courses with Domuni.
Peru
Centro Bartolomé de Las Casas, Cusco
The CBC has an exceptional library and an editing house specialising in Andean cultures and development issues.
North America
Canada
Dominican University College (DUC) has a Philosophy faculty and a Theology faculty. It is a bilingual, university with a French and an English section. Over 10 years ago, an agreement was signed with the DUC which has resulted in an exchange of courses and a sharing of both experience and academic staff. Several academic staff from Domuni University are former students of DUC and academic staff of DUC also teach at Domuni University.
Middle East
Palestine/Israël
Ecole Biblique et Archéologique de Jérusalem
Irak
Bagdad Academy
The Iraqi Dominicans are developing face-to-face Social Sciences courses and have formed the Arabic section of Domuni University for distance learning. Some of the academic staff also teach in the French section of Domuni University.

---
---