News
Fr Yousif Thomas Mirkis, OP is the New Archbishop of Kirkuk of the Chaldeans
3 february 2014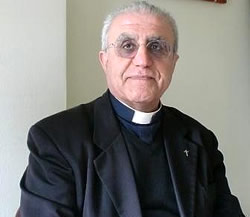 Our brother fray Mirtis op Yousif, professor of the Baghdad Academy, whose courses are available in Domuni, was appointed bishop of Kirkuq (Iraq).
The Holy Father, Pope Francis has given his consent to the canonical election by the Synod of Bishops of the Chaldean Church of Fr Yousif Thomas Mirkis as the Auxiliary Bishop of the Patriarchate of Babylon of the Chaldeans and the Archbishop of Kirkuk
Fr Yousif Thomas Mirkis was born in Mosul, Iraq in 1949. He attended the Seminary of Saint Jean of Mosul and later continued his studies in France where he joined the Order. He made his first profession in the Order in 1975 and was ordained to the priesthood in 1980. He holds a Ph. D in Theology and the History of Religion from the University of Strasbourg and a Diploma in Ethnology from the University of Nanterre.
He is the co-founder of the faculty of philosophy and theology of the "Babel College" (1989), where he conducted studies from 1989 to 2001 and has been teaching since. In 2006 he founded the Academy for Human Sciences in Baghdad. He is a member of the Union of Iraqi journalists, the journalists of the third world with headquarters in Berlin and Union of the Press (International Catholic Union of the Press).
He was the Superior of the Community of the Dominicans in Baghdad from 1994 to 2000, devoting the same time to the writing of books on Christian Education at the Ministry of Education. Since 1995, he has been the director of the magazine "Al-Al-Fiker Masihi" (the Christian Thought) and the publishing house "Al-Nasira."
At present he is Superior of the Community of the Dominicans in Baghdad. He speaks Arabic, French and English, knows Aramaic too.
 
---
---