International Journal - Telos
Telos – in other words, the target, the goal, the destination, the end. A Greek word, rich in both philosophical and theological tradition. A title summed up in the action of the throwing of an arrow. The source is identified, the objective too. Telos is the journal of Domuni University. An international journal of theology, philosophy, history and social sciences, freely accessible and published on the internet, with the aim of stimulating thinking and contributing to the dialogue of thought.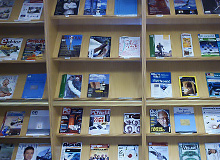 Domuni University inherits two precious gifts from the Dominican tradition: the Faith and the intellectual life. By sharing the wealth of its educational and research networks, we desire to share these gifts with the widest possible audience of readers.
We have a wonderful tradition and a vast collection of documents but we do not wish to be simply heirs or even broadcasters. We want to think, communicate, and reflect together: theologians and philosophers, Christians of today and tomorrow.
We are on five continents. Our languages and situations are often very different, but the diversity converges with the internet and specifically through this journal of scientific level.
In each edition a single theme is addressed, but by three authors from three different linguistic and cultural areas. This naturally opens up bibliographies in English, French and Spanish.
Each article is available in its original language, and also translated into the two other languages, thus enabling the readers to enrich their own tradition with the other bibliographies, philosophies and theologies; references coming from beyond their traditional culture. We hope not only to build bridges, establish connections and create openings but primarily to mutually enrich individual reflections.

Last issue
Telos n° 1, February 2015

There could not be a better subject for this first issue of Telos – Pope Francis. He holds an office that concerns all of us, wherever we may be. His theology makes us look afresh as it breaks with the usual stereotypes whilst at the same time showing a surprising consistency in his media actions and positions. Where is he coming from? What is his academic background? What inspires him? To what references relate his action and his thinking? Can we « understand » Pope Francis ?
n°1- February 2015
Pope Francis and Theology
Editorial (Marie MONNET) 4-5
Joseph KAVANAGH Theology of Pope Francis 6-14
Vicente BOTELLA CUBELLS Traces of Saint Thomas Aquinas in Pope Francis' Evangelii Gaudium 15-31
Albert-Henri KÜHLEM "A Poor Church, a Church for the Poor": The Theological Context of the Wish Expressed by Pope Francis 32-47
 
---
---